See your opportunity, trade it for less. Get spreads from 1 point on the FTSE 100 and US Crude spreads from just 2.8 points.
Find out more about what you'll pay for your trading, and why, here.
Want to try our platform?
How much does it cost to trade with match securities?
Account charge
Opening an account with us is completely free and you don't have to add funds until you're ready to place a trade.
0$
Spread
A breakdown of our trading costs
When you trade on leverage, there's one direct charge that you'll need to consider – the spread, or a commission in the case of share CFDs. You'll also want to keep your eye on some other potential charges and factors which could influence how much your trading costs.
The spread or commission (in the case of share CFDs) is the one direct charge that you'll need to consider when trading on leverage. You can find spreads and commissions for our most popular markets below. To see the full details for a market, follow the links.
Keep your cash CFD position open past 1am (Dubai time), and you'll be charged overnight funding.* If you want to keep positions open for more than one day, try a future or forward.
*Or 4.50pm (Sydney time) for AUD-denominated contracts.
| | | | |
| --- | --- | --- | --- |
| Currency Pair | Minimum spread | Average spread | Margin Required |
| EUR/USD | 0.6 | 1.04 | 0.5% |
| AUD/USD | 0.6 | 1.03 | 0.5% |
| EUR/GBP | 0.9 | 1.89 | 0.5% |
| GBP/USD | 0.9 | 1.83 | 0.5% |
Instruments
Contract Size
Spread
Margin Requirement

Metals

XAUUSD
100
0.3
1%
XAGUSD
5000
2
2%

Energies

USOil
100
2.8
2%
UKOil
100
2.8
2%

Indices

AUS200
1
3
2%
DAX
1
2
1%
ESP35
1
5
2%
HK50
1
4
2%
ESX50
1
3
2%
JPN225
100
9
2%
UK100
1
3
0.5%
NAS100
1
5
0.5%
WS30
1
3.6
0.5%
SP500
1
1.5
0.5%
| Markets | Pricing |
| --- | --- |
| Equities – UK | 0.15% |
| Equities – Euro | 0.15% |
| Equities – US | 3 cents |
*FX commission can be reviewed case by case basis.
| Instrument | Pricing |
| --- | --- |
| Equity – Long | OBFR + 3% |
| Equity – Short | OBFR + 3% |
*MT5 FX swaps are changed every week on Wednesday.
What is overnight funding?
Overnight funding is the charge you pay for keeping cash CFD trades open past 1:00am Dubai time; we'll make an interest adjustment to your account, to reflect the cost of funding your position.
To avoid paying overnight funding, try a future or a forward contract.
How is overnight funding calculated?
Forex
Indices
Commodities
Forex
Formula for forex overnight funding charge = nights held x (tom next rate including annual admin fee) x trade size.
We take our tom-next rate from the underlying market.
Formula for annual admin fee = 0.8% for all contracts.
Indices
Commodities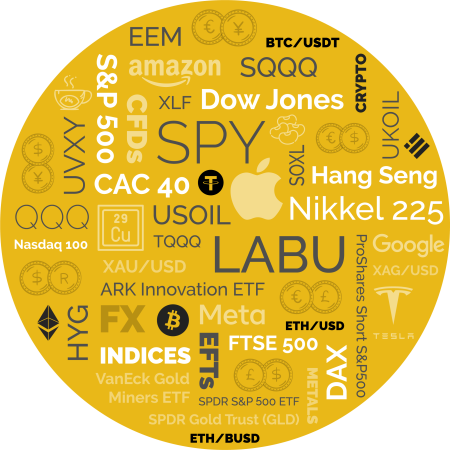 Enjoy flexible access to more than 17,000+ global markets, with reliable execution
Trade on the move with our natively designed, award-winning trading app*
With 45 years of experience, we're proud to offer a truly market-leading service
You can protect your position against slippage with a guaranteed stop, paying only a small premium if your guaranteed stop is triggered. The potential premium is displayed on the deal ticket, and can form part of your margin when you attach the stop. Please note that premiums are subject to change, especially going into weekends and during volatile market conditions.
Forex
Indices
Commodities
Forex
| | |
| --- | --- |
| Market | Guaranteed stop premium |
| EUR/USD | 1.2 |
| AUD/USD | 0.8 |
| EUR/GBP | 2 |
| GBP/USD | 2 |
Indices
Commodities
Extra services and charges
Whether you're paying to give your trading an edge, or for us to carry out account admin, you can find out more here.
Service
Charge
Direct Market Access (DMA)
You won't pay for DMA to trade CFDs on forex and shares. However, you'll need to pay a monthly exchange fee to access live DMA prices for some shares.
Live price data feeds
You'll pay a monthly fee for live share prices from an exchange to trade share CFDs.
ProRealTime Charts
You'll pay $40 a month to subscribe to advanced charts from popular third-party provider ProRealTime. You'll get a refund if you place four or more trades a month. You may still have to pay if your qualifying trades are extremely low-value.
Inactivity fee
You'll pay a $12 fee on the first of every month if you've not used your account to deal for two years or more.
Account documentation fee
To trade US-incorporated stock, you need to supply a mandatory W-8 or W-9 form prior to the dividend ex-date of a qualifying trade – and you'll pay a $50 fee if you don't. You won't pay the fee if your documentation is up to date, or if you've not entered into qualifying trades. We'll let you know if you've entered into a qualifying trade and need to complete a form.
Currency conversion charge

Trade CFDs in a currency other than your account's base currency, and you may incur a currency conversion charge. Your account is set to 'instant conversion' by default, which means that your foreign-currency profit is converted to your base currency automatically – and your funding, commission and dividend charges are taken into account before your account is credited. You can also set your account to daily, weekly and monthly conversion settings.

Our standard charge is 0.5%.
Your bank, card issuer, intermediary banks, merchants, or other parties may make additional charges to your trasnfers and we have no control over this.